In just under two years in operation and 500+ founders later, the Launch House community has proven to be incredibly promising group. Founders have raised from a16z, Sequoia, and YC and have a collective market cap of over $1B.
It goes without saying that extending our support to our founders through direct investment is a no brainer, but there's a lot more to the story.
Today we're excited to unveil a core pillar of the Launch House ecosystem - House Capital.
House Capital is an early-stage venture fund to invest in and support builders of The New Silicon Valley.
We're writing ~100K checks into up to 100 companies inside (and outside!) the Launch House community who exemplify our vision for the future of our industry.

Portfolio company founders get lifetime membership to Launch House (includes group coaching, courses, events, residencies, and more) as well as 1-1 support from us, with special focus on go-to-market and fundraising.

Our unique structure that feeds fund returns back into Launch House creates a flywheel that allows us to compound value for founders over time.
---
The New Silicon Valley is emerging.
A few months ago, we announced the Launch House Series A lead by a16z and first talked about the idea of the Silicon Valley undergoing a major paradigm shift roughly every 10-15 years.
New builders create new centers of gravity and new technologies that create new market dynamics and new cultural norms. So much newness creates huge opportunities for new players to take market share from incumbents - both in startups and venture capital.
2020 marked the beginning of another paradigm shift for our industry that our fund and the founders we invest in capitalize on. The New Silicon Valley is emerging:
Generations are changing
Gen z and young millennials are becoming the dominant entrepreneurial (and consumer) force. Not only will this change buying behavior, but it also changes the culture of startups entirely. Authenticity, optimism, diversity and freedom of expression are now paramount for every founder and investor to embody.
Tier 2 cities are maturing
Because of democratized access to tools and information for building startups, great companies are being built everywhere. That said, the internet has a long way to go before our industry can become truly decentralized. As a result, tier 2 tech hubs like LA and NYC are seeing a inflow of talent and capital like never before.
New platforms are emerging
We're at the end of the internet and mobile adoption cycles, but global adoption new technologies like blockchain, AR/VR, AI, and more is just beginning and will unlock exponential opportunities.
Distribution is becoming paramount
Because its never been easier to launch a startup, competition is at all time highs. This means that founders now need to focus on brand and distribution more than ever, leveraging new channels like TikTok and strategies like community-building.
Founders are expecting more from investors
The popularization of venture alongside new tools and regulations making it easier to raise funds has driven an abundance of capital, which has increased competition. As a result, founders are demanding more from investors than capital both in terms of services (value) as well as ideological alignment (vibes).
A New Vibe in Venture
We designed House Capital (and Launch House) from the ground up to look and feel like a modern venture fund built for these changing times. Here's what that means:
Our platform is venture fundedAs an a16z-backed membership community, we are incentivized to make consistent rapid progress in delivering value to the founders of Launch House and portfolio founders of House Capital. Our founders get access to a range of member benefits like squads (mastermind groups), sprints (short courses on topics relevant to founders), residencies (IRL and online pseudo-accelerators), retreats, perks & discounts, and exclusive events at our clubhouses in major tech hubs.
We support founders for life wherever they are Portfolio company founders get lifetime membership to the Launch House community, which means whether or not you succeed or fail, you'll have the support you need.
We're structured to compound value for our community We've set it up so that 100% of our management fees and the majority of the carry from House Capital pours back into Launch House, which creates a compelling flywheel. The bigger wins we have, the more capital we have to deploy into creating better products and services for founders, which makes it easier to attract great founders and get more wins. Asymmetric returns create asymmetric value for our community.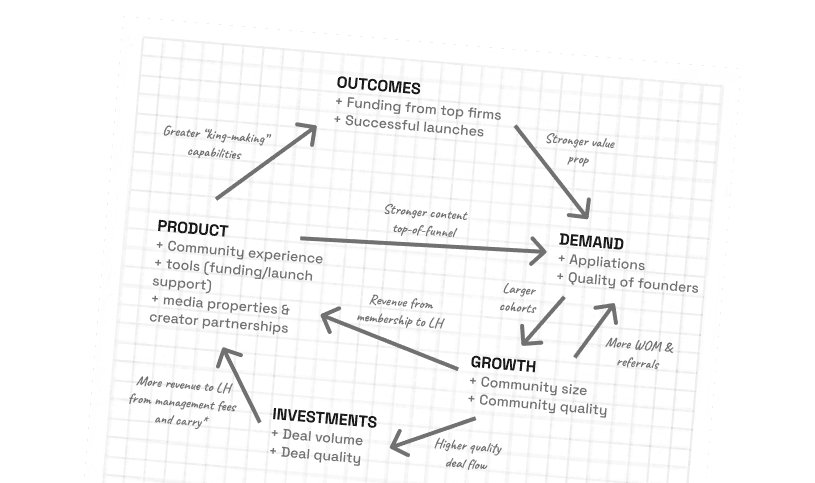 Our network of top talent is growingThe Launch House community started out only for founders. Over the coming years, we'll be extending our offering to adjacent communities of high trajectory builders like engineers, investors and designers, making our ecosystem a fantastic pool for founders to fish in.
Our LPs are world class leaders in product and distributionWe are lucky to be working with some of the foremost leaders in both the technology and entertainment industries, marrying expertise in classic Silicon Valley growth, creative agency marketing, and Hollywood media & branding.
Our LPs include Serena Williams, Andrew Chen & Sriram Krishnan (a16z), Brian Balfour (Reforge), Leo Polovets (Susa Ventures), James Currier & Morgan Beller (NFX), Rick Yang (NEA), Arash Fewdowsi (founder of Dropbox), Steve Chen (founder of YouTube), Marc Merrill (founder of Riot Games), Ryan Wyatt (Polygon Studios), Wiz Abdullah (Spacecadet), Anthony Saleh (WndrCo), Bored Elon Musk, Niv Dror, Moshe Lifschitz, Todd Goldberg, and Rahul Vohra (Deploy), Jesse Middleton (Flybridge Capital), and more.
We're proud of the quality and diversity of this group, but there's always room to improve. We made it a point to pitch a wide range of investors and will continue doing so for future fundraises.
---
This is day one of what we believe will be a generational venture fund and founder community. We are incredibly grateful for our founders and LPs as well as the broader community for helping us make this happen.
Even in the current market, we are open for business. If you are raising or want to learn more about House Capital, you can contact us here or send us a DM on Twitter.
We are also always looking for great founders, investors and other operators to join the Launch House community here or team here (we're hiring!).